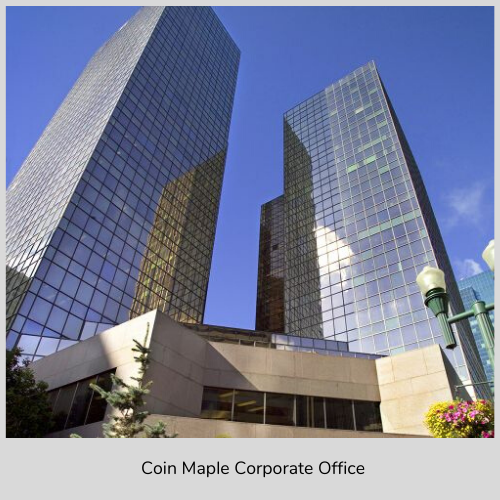 Coin Maple Inc. is one of Canada's leading Bullion Dealer & Crypto Currency Exchange based in Edmonton, Alberta, Canada.
We are committed to educating investors on the Blockchain Revolution which is taking place and the Future of Money. 

We are a 100% Canadian Owned

Company Incorporated under the Canada Business Corporations Act.
As your wealth grows, investing in Precious Metals and Digital Currencies plays on Important Role in creating a Diversified portfolio and preparing yourself against Inflation and Economic Collapse.
We want to help our clients by getting them started in investing in Precious Metals like Gold, Silver Bullion as well as Digital Currencies Like Bitcoin, Litecoin, Ripple etc.
Coin Maple Bullion & Crypto Exchange is built keeping in mind an easy-to-understand interface for our users and we are focused on improving our service and platform based on User feedback and recommendations.



Our Crypto Currency Exchange Platform is now
in BETA Version

for you to Create an Account and Place a Trade. We are looking forward in getting your Feedback on our platform so we can continue improving it to serve you even better.
Please Report to our Support Department

if you have encountered any error on our website or for your feedback.
We are committed on taking customer requests and feedback seriously.
As of June 1st, 2020 Canadian Government Financial Body (Fintrac) has Recognized Crypto Currencies as Money, that being said Coin Maple Inc. was already prepared and compliant for the upcoming changes and was initially registered as a Money Service Business (MSB) on

2019-11-28.

We are a Fully Compliant & Regulated Registered Money Service Business with FINTRAC with MSB Registration Number:

M19601455
At CoinMaple we also understand that before making any investment decision requires Trust, Safety & Security.
TRUST
Trust is critical to any Relationship. We look forward to building Trust with Integrity in every Transaction and Communication's you do with us.
SAFETY
To Ensure Safety of all Digital and Physical Assets, we have a 100% Cold Storage and Vault Storage Policy in Place.
SECURITY
We use the Latest Technologies on the market and 

High Level Encryption to protect sensitive information such as passwords and account details, we also have implemented Top Rated Two-Factor Authentication (2FA) App Authy and Google Authenticator to provide utmost Security to your account.
We are happy to serve you and answer all your questions through our Support System, Telephone, or by Appointment.